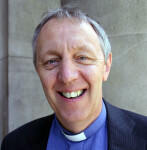 My first decisive Christian conversion came when I was 17, soon after which I knew I was called by God to be a Methodist pastor. Formal training for ordained ministry began in 1977, aged 22, and since then I have sought to serve Christ in the Methodist Church of Great Britain in a variety of appointments.
Helen and I married in 1980, we have three sons, all now in their later 30's, all married, and (currently) three grandchildren. We are blessed with very many friends.
Between 1981-1991 I served as pastor to some wonderful folk in Methodist churches in the north of England, after which, having gained a PhD from the University of Manchester, I was sent to be chaplain and head of Religious Studies in a Methodist day and boarding school.
In 1996 I was appointed by the Conference to Cliff College, a renowned British Methodist training institution, and for 8 years was postgraduate tutor (professor) of evangelism, mission and preaching studies. These years enabled several things worth noting here. First, I wrote my first books, which I have continued to do down to today. Second, I began to travel widely throughout the world of Methodism in order to teach/lecture. (Teaching in war-torn Sierra Leone in 2001, and doing a month-long crash course of training pastors in Cuba in 2005 are particularly memorable.) Third, I began to come to the U.S. regularly, particularly to Asbury KY and Perkins School of Theology, where I was a visiting professor on their D.Min programs. In 2004 I was appointed Principal (President) of Cliff College. As such I led the academic faculty and c40 staff who ran the college and its conference centre facilities.
In 2007 I was humbled to be appointed the President of the British Methodist Conference. This is a one-year role elected by fellow members of the British Conference, and carries significant constitutional and representative authority. As President I represented the British Methodist Church on formal occasions, Ecumenical concordats, Media interviews etc., preached widely and travelled extensively.
In 2008 I was appointed to be General Secretary of the Methodist Church in Britain and Secretary of the Conference. This involved "leading, with others, the mission, vision and ordering of the Methodist Church in Britain." I worked in central offices in London and through four colleagues who reported directly to me, led c200 staff. If being the President was more about opening churches and receiving visiting dignitaries, being the General Secretary was more about ensuring the business of running a national Church was done well, ethically and lawfully: Finance, HR, Property, as well as Fresh Expressions and Pioneering ministries, etc. But it also exposed me to what a close colleague called 'the night soil of the church' and I was ultimately responsible for church discipline, clergy resignations and safeguarding, together with rightly necessary equality and diversity matters, and arbitration and reconciliation processes etc., though I had specialist teams who led on each of these.
It was during this time that I worked regularly with other national and international Church Leaders, including the Archbishop of Canterbury, inter-faith leaders, and met regularly with politicians. I served a short while as a religious advisor to a past Prime Minister. These years also continued to enable me to travel around the world and one of my favourite times was spending one week each year for seven years as an 'honorary member' of the Council of Bishops, during which time I made many friends in the United Methodist Church.
In 2015 I was appointed to Methodist Central Hall Westminster as its Superintendent Minister (senior pastor). Helen and I spent five very happy years there, leading a great staff, and a large congregation consisting of over 30 ethnicities and language groups from all over the world. Learning to live together with deeply contrary convictions was both a joy and a challenge. Unusually, the role involved being Vice-Chair of 'Westminster Central Hall Ltd', a not-for-profit company using the huge premises for conferencing and hospitality, employing c60 staff and turning over c£8m a year. I was also chaplain to the Methodist and Free Church Members of the Houses of Parliament, just 400 yards away. Another privilege was to be a Member of the College of Westminster Abbey, and in that role I attended all national ceremonial occasions which involved meetings with members of the Royal Family and State visits – which in June 2019 included the visit of POTUS. I was also a member of a small group of religious leaders who met regularly with the leader of the Metropolitan Police – which was particularly fraught but valuable during the terrorist attacks in London, one occurring just 300 yards from my church. During this time I became – and remain - an active member of the World Methodist Council Steering Commitee.
We left London in June 2020 having been invited by Bishop Carter to serve in the Florida Conference for a short period as a British minister embodying the historic Concordat made between the British and American Methodist Churches in 1968. However owing to Covid 19 that did not happen in 2020 or 2021 but we are optimistic it will happen in 2022 and we are both excited at the possibility of serving with and among the faithful folk at Lighthouse UMC in Boca Grande. We bring decent health, a readiness to both learn and share, a wide experience of ministry and Methodism, and a continuing desire to serve Jesus Christ, and lead, pastor and love His people.
I bear testimony to the gracious enabling and keeping of God in this long, humbling ministry. Without the loving, strong support of Helen, colleagues and many friends, we could not have successfully undertaken the ministries to which the British Conference appointed us. We trust the Lord for the unfolding future.
Martyn Atkins – April 2022.